The Land Rover Company launched many vehicles in different segments but the Defender gained a lot of popularity in the SUV category. It was launched in 1983 and its production till 2016 as a four wheel drive utility. It became a favorite with those who loved to have adventures in their driving experiences. It had a lot of external and interior structures very much comparable to its predecessors. Some of the revamped parts included the bonnet, grille and wheel arches. It had superior Defender parts fit for driving in difficult kinds of terrains and road conditions.
Later, the Defender 110, Defender 90 and a third version Defender 127 was introduced to the world. The diesel version of Defender series made a debut in 1986 featuring the Diesel Turbo engines. This utility line up was introduced as a heavy duty vehicle in terms of payload capacity of 110HCPU. It is a four door 6 six seater utility vehicle and pretty soon gained approval among industries such as electrical and utility companies. The best advantage of the Defender 110 was that it was capable of carrying crew and heavy equipment as it had large space.
The Defender 127 had better payload capacity of 1.4 tonnes and its production ran non-stop for a whopping 67 years. Finally 29 January 2016 put an end to the production of the Defender model.
In UKAR AUTO we have a huge selection of Land Rover Defender parts for sale. The list includes many spares and accessories. So update your vehicle by browsing the online catalogue on our website. Many part and accessories available through our website will fit almost any Defender present today. Get all Land Rover Defender parts to keep your vehicle in top class form.
Land Rover Defender Style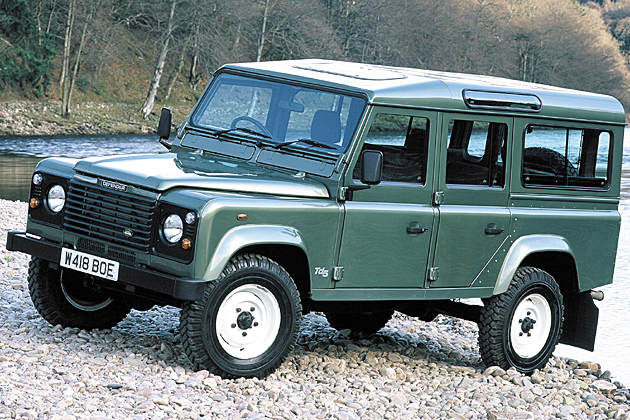 Land Rover Defender parts selection is vast with nine core body styles. Give your vehicle a facelift with deluxe leather interiors or try and change the drive train and body for durable over landing. On first looks from the outside the Series 3, Defender 110 and Defender 90 variants looked very much the same but they all had some distinguishing feature to set them apart. Markedly, the Defender 110 model had the coil springs which were definitely the reason to give the occupants plush comfort and ease in axle control.
Also there were more fashionable interiors, higher single piece windscreen, permanent 4WD and boosted engine. There were alterations made in terms of interior trimming, range of colors and graphics. It also featured radio players, cassette readers, head lamp wash and wipe systems, storage parts and better seating arrangements. The more advanced graphics, interiors, engine specifications and transmission power aided the sales performance of Defender 90 in 1980s.
The Special Division set up for contracts with Britain's Army had the Defender 127 adapted for the purpose of launching Rapier missiles. They manufactured a special vehicle that was an arrangement of three Defender models. The heavy Rapier missile was safely kept in the Defender 127. This vehicle was fixed to two Defender 110 vehicles. These two vehicles were meant to transport the army soldiers and additional equipment. Thus the trio was a special vehicle for military purposes. Later, on the Defender 127 also was referred to as the 'Land Rover Defender 130'. It still remains offered with the five seats HCPU style of standard body.
Defender Features
The Defender 90 had a lot more space for the engine parts in comparison to the earlier versions. The wheels arches were coated with polyurethane and the windscreen was higher as one piece and this totally made the difference. The fabric on the seats was also overhauled and the old wind- up windows swapped for newer slide-up windows. The wheel arches were not congested as the boxed-in sections used up very less space. The result was amazing with regards to storage and was very much appreciated as the loading space increased.
Out with the leaf springs and in with the coil ones that gave enduring suspension capacity. Another extra feature was the powered steering wheel. Defender 90 too had preferences including graphics, color deviations and headlamps. Other features that were different were washing and wipe systems and styled wheels to name a few. Thus it developed into a vehicle that offered heavy load capacity, easy handling, driving coziness and cross-country ability.
Competition at that time was very tough especially, from Japanese makes and Land Rover had to come up with advertising campaigns to rope in those customers. Toyota and Nissan were the main competitor models in the same segment as Defender. There were also special editions built in small lots to meet specific military contracts and a Defender 90 with amphibious quality was one of them.
Land Rover Defender spare parts and accessories at UKAR AUTO
Get to know the variety of different dimensions, prices and quantity available on UKAR AUTO and you will be amazed. There are many brands of external parts for windscreen, side lights, led lights, fog lights, doors, badges, xenon headlamps and door handles. Also included are fixed side steps, fuel filler caps, anti-theft sensors, wind reflectors, fobs, bonnet handles and hoods.
Check out the parts for tow clips, mud flaps, mirrors, grille badges, decals, glass channel, shafts and props etc. We also present interior Land Rover Defender spare parts for ignition controls, pedals, seals, breaks, calipers, engines and wipers. The list also includes reflectors, shock strut, wind washer assembly, axles, plugs, grommets, studs and nuts. The selection also has throttle body heater, tailgate, seal, gaskets, ABS parts, injection pump, battery and fan. Also check out parts for compressor, dryer, hose, pulleys, pistons, filters etc.
Get the Land Rover Defender parts for sale on UKAR AUTO. Select attractive offers are featured on our online Land Rover Defender parts catalogues for more spare parts or accessories. Or just dial 1 (844) 344 11-77 for best opinion.