Land Rover has huge plans for 2020. Two new vehicles were spotted up in the Rocky Mountains!
A few months ago, we were writing about what the new Defender would look like. Now we definitely know it. The general Rocky Mountains area is famous as a testing ground for upcoming Land Rover vehicles. Here is where professionals drivers take prototype Land Rover models for a test drive in the wild.
In the past, many people had the chance to spot new Land Rover vehicles cruising around this area, and just a few days ago, someone captured a few pictures of the new Land Rover model in Frisco, Colorado. Apparently, the company decided to take the 2020 Land Rover Defender for a test drive. But this was not the only car that was taken out for a spin that day.
In the same area, a two-door variant of Range Rover could also be spotted. This model has a short wheelbase. It's fairly similar to the current Range Rover Sport model. Some experts say that this can easily be Land Rover's test mule for the Defender.
Let us remind you that people have already taken some pictures of new Land Rover vehicles being tested in Moab a few weeks ago. It appears that these are the same models, only this time they are being tested against the unique conditions found only in the Rocky Mountains.
What Do We Know So Far?
Land Rover is definitely up to something. It appears that they are revamping the entire lineup of their fleet. This is some great news following those regarding the Land Rover Defender.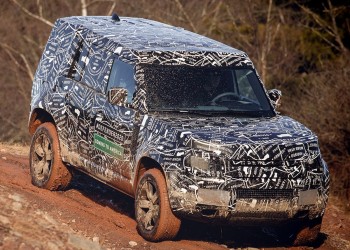 Land Rover killed the Defender series in 2016. This was very bad news, especially to the consumers who loved old-school off-road SUVs. This is how the 67-year-long production run had ended.
The company announced that they are going to revamp their discontinued Defender lineup, and it's going to be introduced to us by the end of 2019. Now that we know that they are testing a brand new Defender in the Rocky Mountains, we can expect it to be available for sale sometime within 2020.
While the price still remains unknown, we are confident that the new Defender will come in two and four-door variants. When it comes to specific features, the 2020 Land Rover Defender will come with independent rear suspension.
Unfortunately, we don't have that many details to share with you. The 2020 Land Rover Defender is enveloped in mystery. We even don't know anything about the powertrain, but considering the current Land Rover motor lineup, we can make an educated guess.
So, what's going to be under to hood of the upcoming SUV? The chances are that the new Defender will either feature supercharged 3.0-liter V6 or an Ingenium 4-cylinder unit.
Our guess is that the new 5.0-liter V8 won't make it into the new Defender. Also, it won't be the same for all world markets. We will probably see a turbo-diesel engine making it into the models for the overseas markets.
Rumor has it that Jaguar Land Rover is currently working on a new straight Inline 6-cylinder engine. Maybe the new Defender will come with this one instead, but nothing is certain at this point.
Is Land Rover Capable of Nailing the Next-Gen Defender?
Believe it or not, the first Land Rover was designed in the late 1940s on the beach! The first prototypes were made of a Willys Jeep chassis, but they featured the Land Rover engine. Soon after, the British military adopted the Land Rover.
From that point on, Land Rover was used as an expedition vehicle. Civilians used it numerous scenarios, and Land Rover quickly became a popular SUV brand capable of delivering a reliable off-road vehicle to anyone who needed it. Celebrities and politicians also found Land Rover very attractive, which significantly increased its popularity in the 1950s.
The company has changed many owners throughout the years, including BMW, Ford, and so on, to finally end up under the roof of the Indian company, Tata Motors.
It appears that the check Tata Motors wrote to Land Rover inspired and enabled engineers to create a new line of Defender vehicle – a luxurious and stylish crossover that's both going to shine in urban and off-road environments.
What experts want to know more about is the independent rear suspension. Quite some time has passed since we last saw a solid rear axle in any of the Land Rover vehicles.
Thanks to the decades-long experience, we believe that Land Rover is going to nail the next-gen Defender. They did many good things and some bad things with previous Defender models, which is great because they can learn a lot from both.
When it comes to power trains, Jaguar Land Rover has many options, as we have already discussed. This is a great thing, as it allows them to target specific markets segments.
There is also a question of tech. As you probably already know, Range Rovers and Land Rovers come with a lot of tech inside them. Thanks to those perks, Land Rover is capable of offering one of the most advanced off-road systems.
The Terrain Response, for instance, is amazing. It has been thoroughly tested by Land Rover and off-road SUV enthusiasts in general. Thanks to this system alone, JLR is able to deliver the best traction regulation on uneven surfaces on the market. How many Land Rover tech solutions will find their way into the new Defender?
JLR definitely has the knowledge, experience, and access to the talent pool to deliver an off-road stylish vehicle. This is why many people are anxious to take the new Defender out for a spin.
The off-road SUV market is more than alive and it is always good when customers learn that they will have new options. Currently, the Jeep Wrangler is considered the off-road king. But soon both Land Rover Defender and Ford Bronco will enter the bracket.
We will have to wait and see whether the new Land Rover Defender is going to live up to the title of "the best 4x4 SUV", a thing only Land Rover is known for.