Jaguar Land Rover has huge plans for the future according to JLR CEO Ralf Speth. We can expect to see JLR investing resources into shared mobility, networking, and autonomous driving.
Ever since India's Tata Motors reported a quarterly loss this year, more bad news regarding Jaguar Land Rover kept coming out. So far, JLR has faced so many problems this year. It all started with the share price of Tata Motors falling by 30%.
The JLR's plans for the Chinese market fall apart due to the harsh competition and decaying demand for diesel motors. Then there were the unplanned factory shutdown due to Brexit and withdrawal of almost 50,000 vehicles from the market due to troubling CO2 emissions.
The bottom line – Tata Motors had no other option but to reduce the value of JLR by almost $4 billion. As if this wasn't enough, we also received the news about possible PSA acquisition of JLR. Carlos Tavares, the PSA CEO, was very straightforward about the PSA's interest to expand and purchase the British brand.
To address shareholders' but also the concerns of JRL employees and the general British public, JLR CEO Ralf Speth decided to be honest about the future JLR's plans. According to him, the bottom line of all plans is to help the company get back on top. Here are some more details.
Is Possible That the Company will be Sold to PSA Possible?
The news that India's Tata Motors is looking to sell JLR to PSA was very troubling indeed. Especially in times when JLR is facing bad news on so many fronts. In one of the latest interviews, JLR CEO outlined that this is something he doesn't know, as it depends on what the Tata supervisory board will decide.
But he added that JLR has unconditional support from Tata Motors. In fact, Ratan Tata and the entire Tata Group are closely tied to the British brand and will do everything in their power to not only stabilize the company but also get it back to the top.
You can read more about PSA's interest in taking over Jaguar Land Rover from Tata Motors here.
JLR Is Facing Many Challenges
According to JLR CEO, beside the misfortunate events due to Brexit and CO2 emissions, JLR is bound to address the major challenges of the future car market. In fact, the entire auto industry will need to adjust to the new customer expectations and desires, and the latest trends.
To be able to respond to these challenges a company has to have access to sufficient funds. And, according to JLR's CEO, the British brand has already put a plan into action.
One of the newest JLR's strategies focuses on cash and overall profitability of their cars. JLR CEO Ralf explains that the plan has been put into action in 2018, and it includes:
- Elimination of complexities in the manufacturing process.
- Optimization of internal process for better efficiency and lower costs.
- Reduction of expenditures and investments.
There is also another plan put in action and it focuses on developing and bringing improvements in terms of efficiency.
To build a leaner organization, JLR had to let some workers go. In 2018, 2,500 JLR employees were let go. In addition, JLR has offered a voluntary settlement program. Another 2,500 employees accepted it. Today, JLR is another 5,000 workers lighter.
This action has enabled the company to redirect the resources to research, development, and improvements.
The Plan To Get JLR Back to Top
JLR CEO Ralf is aware that the British brand was once one of the top players in the world's car industry. According to him, everyone in the company is currently working to bring JLR back to the top. Their primary intention is to redirect all the extra cash into shared mobility, networking, and autonomous driving.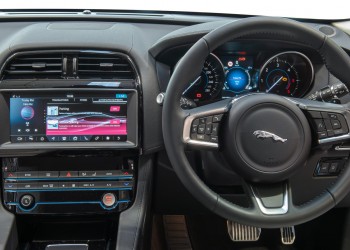 JLR has already partnered up with the IOTA Foundation to incentivize drivers to share their driving data by offering them cryptocurrency they can spend for tolls, parking, and battery charging. The new software has already been put to test in the JLR's software engineering base in Shannon, Republic of Ireland.
In their efforts to rise to the top, JLR strategists have also decided to invest in the renewal and expansion of the JLR product portfolio. Lastly, JLR is also experimenting with the internal combustion engines. The company goal is to diversify the offer and attract as many new customers as possible.
What Is JLR's Plan for Diesel and V-8 Gasoline Engines?
JLR strongly believes that diesel and V-8 gasoline engines are not going anywhere soon. In fact, most of the industry forecasters expect to see electric vehicles' market share rise to 20-30% by 2025. This means that 70-80% of the market share will be dominated by vehicles with conventional engines.
This gives a strong enough reason to JLR to continue researching and further customizing and optimizing its conventional engines. Let us remind you that JLR's diesel engines are one of the best engines in the world when it comes to CO2-emission and fuel consumption.
Electrification of Cars Is a Slow Process
JLR is interested in taking its own electric vehicle market share, but at the same time, the British brand is aware of the problems associated with it at the moment.
Electric cars are very expensive and on top of that, there is still no infrastructure that is both reliable and convenient for the consumers to go full electric.
Let's not forget the fact that the batteries demand is also huge because all major car brands are interested in making electric cars, which further increases the price of electric cars.
JLR's launch of the electric car, the Jaguar I-Pace, was a complete success, even though it costs almost 80,000 euros. The I-Pace even received the 2019 European Car of the Year, and JLR is preparing new vehicles for 2020.
Given the fact that JLR had to address so many challenges in a short time, we can all let a sigh of relief that the company came up with a plan to come back to the top.
We certainly hope that their optimizations in terms of better efficency, autnomous driving, networking, and shared mobility will provide the results JLR is hoping to achieve.